Revisiting a low growth, low interest rate, low inflation world through COVID-19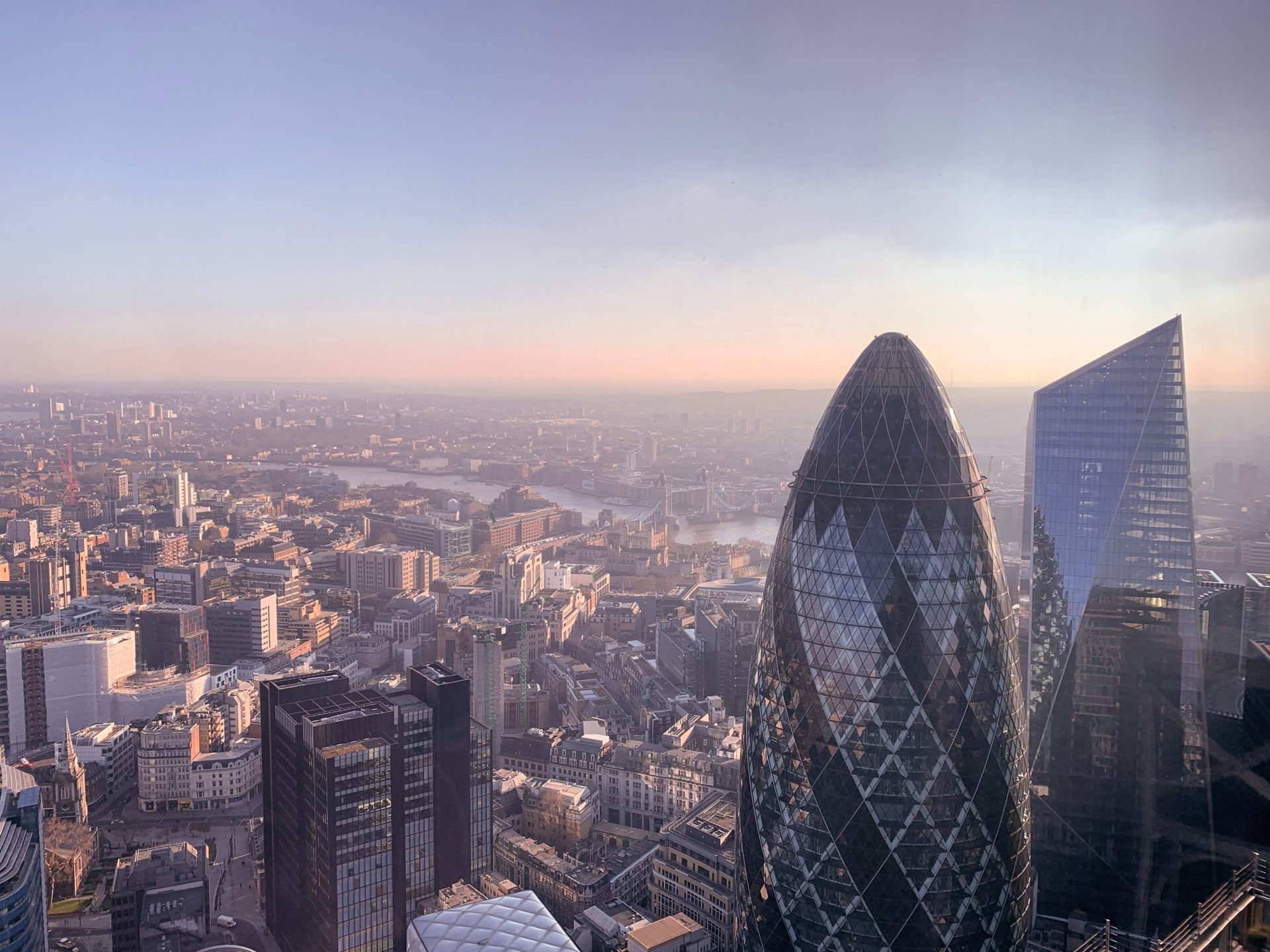 Long-dated government bond yields have increased over the past year as the economic outlook has improved and inflation expectations have increased. Recently, the 10-year U.S. government bond yield has risen sharply and is now approximately 136bps compared to a low of 50bps last year. We continue to believe that inflation (and interest rates) will remain lower for longer, with our base assumption of 10-year U.S. bond rates to average 250bps over the next 10 years. It is worth noting that this yield is above the average since the Great Recession of approximately 230bps. Technology-based innovation and disruption is by its very nature deflationary because it results in better products at lower prices. In fact, we believe we are at the onset of radical technological disruption, and the cadence of innovative product launches should increase. We anticipate that any meaningful inflation will be transitory and any inflationary influences, including "base effects," will fade over the next twelve months.
Hyperion believes the world is facing a very high level of innovation and disruption over the next decade. Advancements in artificial intelligence ("AI"), machine learning ("ML") and robots will disrupt human capital markets and reduce the pricing power of labour. Renewable energy technology, distributed power grids, electric vehicles, and autonomous driving software and hardware will make the cost of energy and transportation significantly less expensive. The ongoing influence of the internet, smart phones and e-commerce platforms will also continue to apply downward pressure on profit margins for many businesses and help keep prices low. The effect of ongoing innovation will result in most legacy businesses being forced to discount their products and services in a futile attempt to maintain their market share and sales in the face of superior, more relevant products from innovative companies.
In addition, Hyperion believes aggregate demand growth is likely to stay subdued in the long term because of high debt levels, ageing populations, lower population growth rates, rising wealth inequality/hollowing out of the middle class, and environmental constraints and disruption. During the COVID-19 crisis, most consumer-based expenditure has been directed away from services like travel and restaurants towards goods. This is shown below in Figure 1. This reallocation of consumer spending away from services and towards goods is temporary and likely to reverse over the next twelve months as global economies reopen and transfer payments recede.
Figure 1: Quarterly U.S. personal consumption expenditures percentage change from preceding period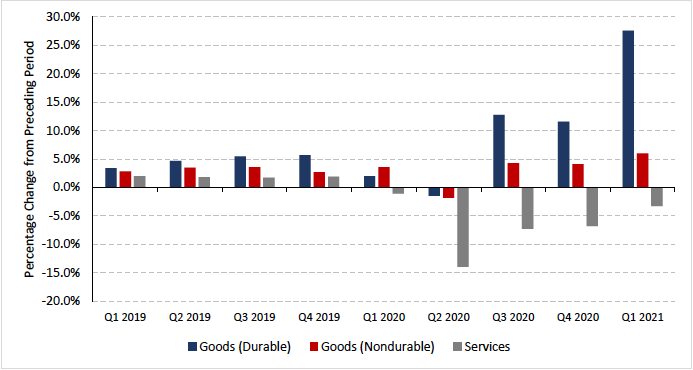 Source: U.S. Bureau of Economic Analysis (2021). Note: Q1 2021 is a revised estimate. Data from latest U.S. Bureau of Economic Analysis released on 24 June 2021.
The base effect also applies to inflation statistics and reported economic growth figures.
The "broken window fallacy"
The recent economic growth statistics overstate the real economic improvement over the past twelve months.
The "broken window fallacy" states that simply replacing a damaged or destroyed good, service or income with the same or similar quality attributes does not result in true economic growth. Simply replacing the
businesses and associated incomes, products and services that were destroyed during the COVID-19 crisis with similar businesses, incomes, products, and services does not equate to true economic progress. The new
business and wage incomes and related goods and services are included in the GDP statistics, but these figures overstate the true economic growth since the COVID-19 crisis began. This overstatement of true economic growth is supportive of lower than stated underlying aggregate demand growth. A lower than stated level of true economic growth is less supportive of demand-pull inflationary pressures where "too much money is chasing too few goods."
Unsustainably strong demand for durable and non-durable goods
The single largest component of the U.S.
economy is consumer-based personal expenditures. In recent times, total personal expenditures have represented approximately 70% of U.S. GDP. Personal expenditures comprise both services expenditures and goods expenditures.
Prior to the COVID-19 crisis, services-based expenditures represented 44% of GDP. In March 2021, expenditures on services had declined to only 42% of GDP. At the same time goods-based expenditures increased from approximately 26% of GDP prior to the lockdowns to 29% in March 2021. Durable goods expenditures increased by 28% in the twelve months to March 2021 and non-durable goods increased by 6% over the same period. On the other hand, services-based expenditures decreased 3% over the 12 months to March 2021. The large increase in demand for durable and non-durable goods was a direct result of the lockdowns preventing people from being able to spend on services. During the COVID-19 crisis most
consumer-based expenditure has been directed away from services like travel and restaurants towards goods.
This is shown below in Figure 2 and further supported by the tabulated data in Appendix 1.
Figure 2: Quarterly U.S. personal consumption expenditures percentage change from preceding period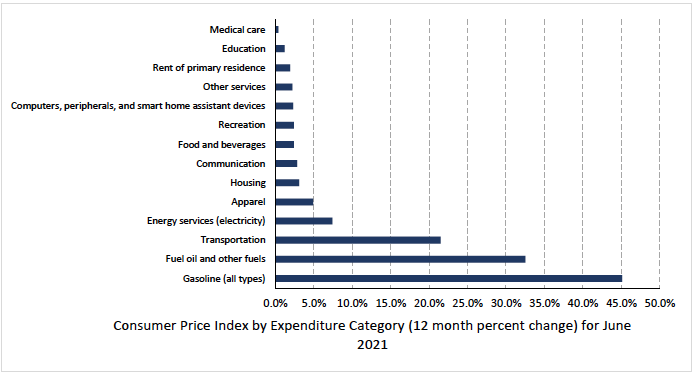 Source: U.S. Bureau of Labor Statistics. Data published in July 2021.
Source: U.S. Bureau of Labor Statistics. Data published in July 2021.
We believe there are diminishing returns from increasing use of debt. The financialisation of society over the past half century has accelerated historical economic growth rates. Most major economies have used debt to help boost historical growth rates. In the U.S. total debt to GDP, where debt equates to total credit to the non-financial sector, has increased from 133% in June 1981 to 296% in December 2020. Over the same time period, U.S. government debt to GDP has increased dramatically from 33% to 132%.
Figure 3: Government debt to GDP – U.S. (%)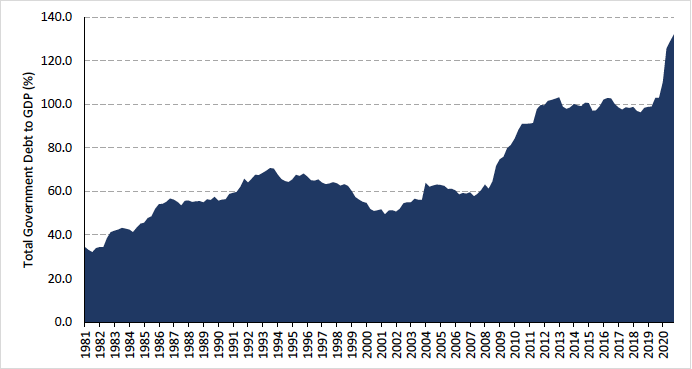 Source: BIS (2020) United States credit to general government as percentage of GDP (Adjusted for breaks)
Figure 4: Total Debt to GDP – China (%)
Figure 4: U.S. real disposable income has been temporarily boosted by government transfer payments – U.S. real disposable income (Trillions of 2012 U.S. dollars, annualised)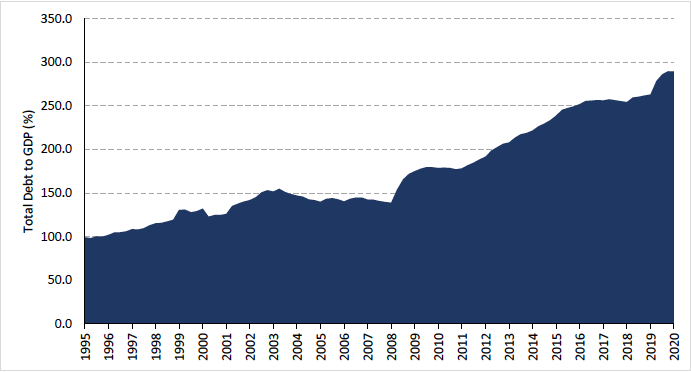 Source: BIS (2020) China credit as percentage of GDP (Adjusted for breaks)
Stocks that have sustainable business models tend to have longer durations compared to lower quality, less sustainable stocks. That is, they sell on higher short-term price earnings ratios, and therefore, more of their expected future free cash flows are further out in the future. All other things being equal, longer duration assets, including stocks, tend to be more sensitive to changes in long-term bond yields and discount rates. However, the duration of a stock as a measure of its share price sensitivity to changes in interest rates is only valid if the nominal growth rates in the future free cash flows do not change by a similar degree to broadly match the change in long-term bond yields and discount rates.
If our views on higher inflation being transitory turn out to be incorrect, then we believe that allocating capital to high quality businesses that have pricing power and high levels of structural growth will help protect against high inflation levels. We believe most of the companies in our portfolios can pass on cost inflation to their customers, thus enabling them to retain their future earnings and cash flows in "real" (inflation-adjusted) terms. The ability of the stocks in our portfolios to maintain the real value of their future earnings should allow them to minimise the negative impacts of higher inflation over the long term.
In addition, extremely high structural growth stocks are in a better position to handle high levels of inflation compared with stocks with a more modest growth rate. Even if we assume these high-quality stocks are not in a position to increase the nominal value of their future free cash flows and thus retain the real value of those free cash flows, the relative impact on the cash flow is lower.
In a relative sense, the higher the nominal structural growth rate for a company, the less the real growth rate declines for any given increase in inflation. A business with a 40% structural growth rate with 10% inflation suffers a 25% decline in real structural growth (compared to a zero-inflation situation). Contrast that with a 20% nominal growth rate company that would suffer a 50% decline in real growth from a move in inflation from 0% to 10%.
Businesses that can sustain high real growth rates typically have the following attributes:
1) strong and sustainable value propositions;
2) innovative cultures that actively improve the features and quality of the existing products and create new products over time;
3) yet to fully monetise the value of their existing product offering; and
4) revenues that are small relative to the size of their total addressable market ("TAM").
Low quality businesses will suffer the most in a sustained high inflation environment, because many of these businesses will be unable to pass the cost inflation they experience on to their customers. High quality, structural growth companies should perform better in a relative sense than broader equity benchmarks, which are dominated by "old world" businesses. We define old world businesses as those that are no or low growth and/or are being disrupted by a far superior product or service.
Hyperion estimates 79% of the stocks (by index weight) in the Australian S&P/ASX300 Index can be categorised as old world. Outside Australia, 63% of the MSCI World Index and 54% of the U.S. S&P 500 Index have old world characteristics. This means the level of fundamental risk in the main benchmarks globally is high, as they are dominated by low growth businesses that are being disrupted by higher growth, more modern challengers. This disruption is being driven by the stronger value propositions that these modern businesses offer consumers. Over the next decade, we anticipate that there will be significant levels of "creative destruction" as this transition from incumbents to challengers progresses. In this highly competitive environment, it will be difficult for these large, listed businesses to pass on any input cost pressures in the form of higher prices.
Figure 5: Proportion of benchmarks that are "old world"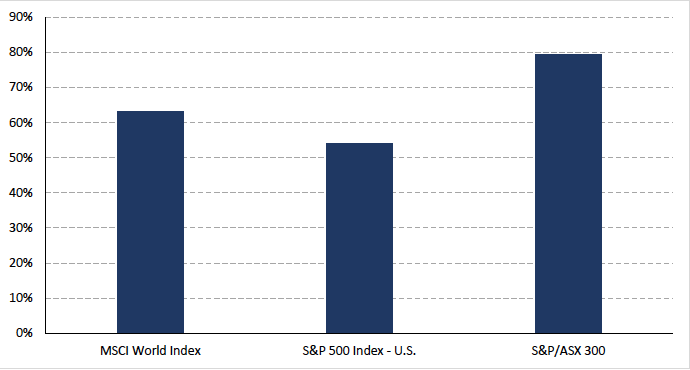 Source: FactSet, Hyperion. Hyperion has assigned companies with no or low expected EPS growth and/or with risk of permanent business model disruption as old world.
Historically, some commodities and non-fiat currencies such as gold have been considered good inflation hedges. However, we believe software companies will be identified as more effective, modern inflation hedges going forward. These companies typically have software that is absorbed in the workflow of an organisation, which means there are high switching costs. Often the software is under-monetised relative to its value as the focus has been growing its user base and capturing the addressable market opportunity rather than optimising pricing. Companies that have strong market positions with a loyal user base that are paying relatively low monthly subscription fees could substantially increase their prices.
We estimate software represents less than 30% of developed global equities. Information Technology and Communication Services sectors currently have weights of 22% and 9%, respectively, in the MSCI World Index. We believe Hyperion's portfolio is relatively well positioned as an inflation hedge with strong pricing power and organic growth levers.
Figure 6: Fama French HML Index – Value Underperforms in Low Growth, Low Inflation, Low Confidence Environments
Mark Arnold (CIO) and Jason Orthman (Deputy CIO)
July 2021
Disclaimer – Hyperion Asset Management Limited ('Hyperion') ABN 80 080 135 897, AFSL 238 380 is the investment manager of the Funds. Please read the Product Disclosure Statement ('PDS') in its entirety before making an investment decision in the Funds. You can obtain a copy of the latest PDS of the Funds by contacting Hyperion at 1300 497 374 or via email to investorservices@hyperion.com.au.
Hyperion and Pinnacle Fund Services Limited believes the information contained in this communication is reliable, however no warranty is given as to its accuracy and persons relying on this information do so at their own risk. Past performance is not a reliable indicator of future performance. Any opinions or forecasts reflect the judgment and assumptions of Hyperion and its representatives on the basis of information at the date of publication and may later change without notice. The information is not intended as a securities recommendation or statement of opinion intended to influence a person or persons in making a decision in relation to investment. This communication is for general information only. It has been prepared without taking account of any person's objectives, financial situation or needs. Any person relying on this information should obtain professional advice before doing so. To the extent permitted by law, Hyperion disclaim all liability to any person relying on the information in respect of any loss or damage (including consequential loss or damage) however caused, which may be suffered or arise directly or indirectly in respect of such information contained in this communication.
You may also be interested in
Read more of our investment insights