COVID-19 Global Equities Response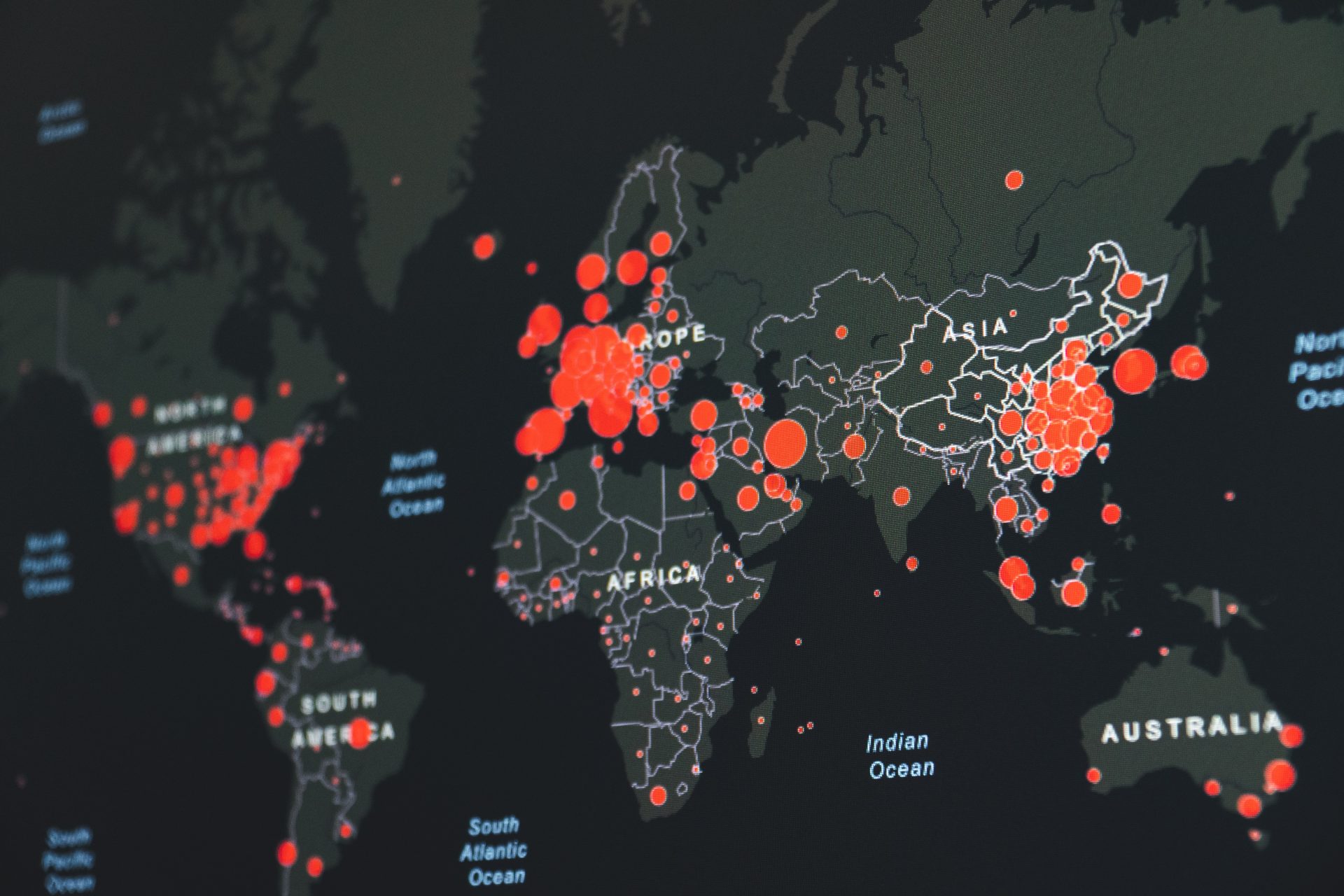 Hyperion hopes that you and your families are safe and healthy during this challenging period.
Our Business
In early April, as a result of the COVID-19 crisis, Hyperion's Executive Committee decided that all employees would work remotely from their homes and cease all interstate and international travel. As all Hyperion employees work via cloud environments that can be accessed securely from anywhere in the world the business has operated as normal. Hyperion also tests its Business Continuity Plan (BCP) at least annually. In addition, its reliability and consistency has been tested regularly as staff would often travel and require remote access to their work environments to perform their normal daily duties.
From a financial perspective, the firm holds significant cash reserves and is highly profitable. Our financial position has also allowed us to opportunistically hire a 13th investment team member who is expected to start mid-April. At the portfolio level, given the nature of our investment strategy, Hyperion does not have any material credit or counterparty risk within its portfolios. The liquidity and risks of the portfolios are monitored daily, with risk adjustments embedded into our portfolio construction process.
Your Investment
Hyperion's investment style performs best in a low growth or slowing economic environment. Our portfolios tend to perform well in difficult and decelerating economic environments because the businesses in our portfolios tend to have strong value propositions, robust business models and growing market shares. This means the long-term underlying intrinsic value of the portfolios tends to be more stable than the overall market during economic and market downturns. In addition, through the heightened short-term market volatility associated with market corrections our disciplined portfolio construction process allows Hyperion to "top and tail" the positions within our strategies in order to enhance the long-term returns that can be achieved over the long-term. The defensive nature of our portfolios was illustrated during the Global Financial Crisis (GCF), and the subsequent post-GFC low growth economic environment. During this time, our Hyperion Australian Growth Companies Fund (HYAGCF) returned -1.28% in AUD and net of fees versus the S&P/ASX 300 Accumulation Index (XKOAI) return of -20.3% in FY09. The graph below illustrates the AUD dollar growth net of fees our investment process achieved for our HYAGCF clients relative to the XKOAI.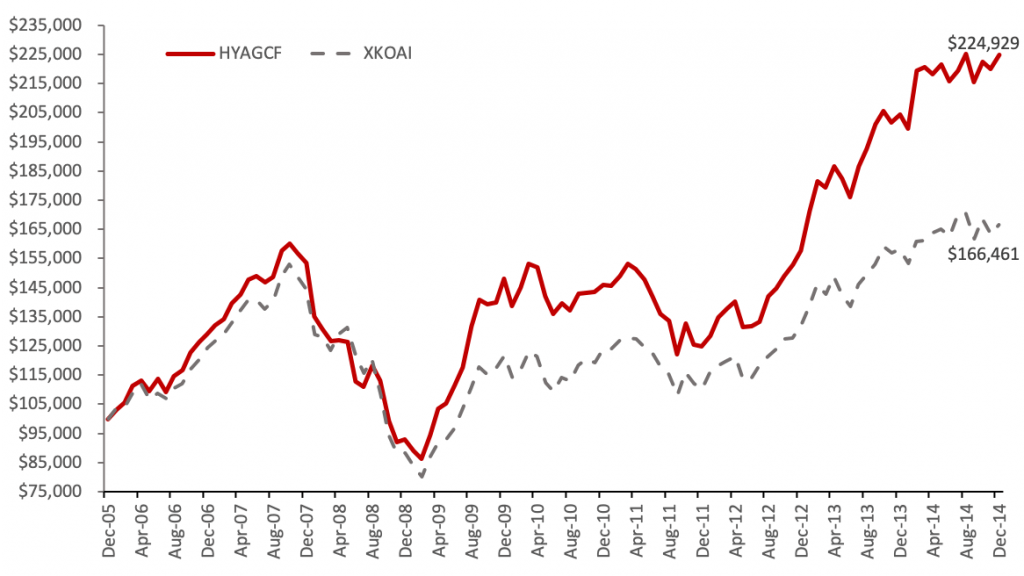 Source: Hyperion Asset Management
The GFC taught the investment team several lessons allowing us to be even better prepared to withstand and benefit from periods of short to medium-term market volatility and fundamental market corrections. This has been validated with strong alpha of +2.65% in March and +5.99% over the past 12 months net of fees across the Hyperion Global Growth Companies Fund. Over the last 24 months the investment team has increased cash levels to double digit rates (where IMA restrictions allow), removed highly cyclical positions and increased the weights of positions that have robust business models with strong value propositions and low or modest levels of financial gearing. For example, portfolio weights have been reduced across GOOGL-US and FB-US as regulatory and advertising market risks increased. We also decided to exit W-US and DPZ-US after the investment team identified emerging risks to their business models. Conversely, the weights in global leaders such as AMZN-US, COST-US and MSFT-US have been increased whilst simultaneously establishing positions in a collection of mid-cap structural growth companies.
Economic disruption also has the added benefit of accelerating the shift to businesses that are market leaders, who possess strong sustainable competitive advantages through the offering of disruptive products and solutions that have a strong value proposition for their customers. In addition, the intrinsic value of these businesses should continue to rise, as they are highly likely to win new long-term customers given the stickiness of their products and solutions. We continue to believe we are relatively well placed with a concentrated portfolio of modern businesses. In contrast, the quality of the Australian equity benchmarks remains low growth and low quality which we highlighted in two of our articles titled which can be found here: Beware the index! (part 1) and Beware the index! (Part 2).
Through the current market volatility, we've taken advantage of the situation by adding new names to our strategies and simultaneously repositioned weights using our proven proprietary portfolio management process. Looking forward we will retain high cash levels as we continue to observe the extent and length of containment and economic contraction currently unfolding. Hyperion is confident that during this difficult period we will continue to add considerable value through this next cycle and beyond. Our Global product continues to add significant value to clients including through the containment crisis and with a 5-year forecast IRR above 20% pa we remain confident in its quality and return outlook. The addressable universe is larger globally and we continue to experience significant research synergies by managing both Australian and global equity portfolios. In an uncertain environment, we believe the relative quality of the portfolio and the underlying structural growth of the companies in the portfolio increase the likelihood of positive long-term outcomes for our clients.
Regards,

Mark Arnold
Lead PM, CIO and Managing Director 

Jason Orthman
Lead PM, Deputy CIO and EC Deputy Chair
Disclaimer – Hyperion Asset Management Limited ('Hyperion') ABN 80 080 135 897, AFSL 238 380 is the investment manager of the Funds. Please read the Product Disclosure Statement ('PDS') in its entirety before making an investment decision in the Funds. You can obtain a copy of the latest PDS of the Funds by contacting Hyperion at 1300 497 374 or via email to investorservices@hyperion.com.au.
Hyperion and Pinnacle Fund Services Limited believes the information contained in this communication is reliable, however no warranty is given as to its accuracy and persons relying on this information do so at their own risk.
Any opinions or forecasts reflect the judgment and assumptions of Hyperion and its representatives on the basis of information at the date of publication and may later change without notice. The information is not intended as a securities recommendation or statement of opinion intended to influence a person or persons in making a decision in relation to investment. This communication is for general information only. It has been prepared without taking account of any person's objectives, financial situation or needs. Any person relying on this information should obtain professional advice before doing so. To the extent permitted by law, Hyperion disclaims all liability to any person relying on the information in respect of any loss or damage (including consequential loss or damage) however caused, which may be suffered or arise directly or indirectly in respect of such information contained in this communication.
The name of the fund was changed from Hyperion Global Growth Companies Fund – Class B to Hyperion Global Growth Companies Fund (Managed Fund) on 5 February 2021 to facilitate quotation of the fund on the ASX.