Tesla is not a meme stock: Hyperion

Recent Tesla share price outperformance is based on "excellent business economics" which continues to improve over time, according to Hyperion Asset Management, a holder of Tesla stock.
Speaking at a webinar, Mark Arnold, Hyperion's chief investment officer, said Tesla was a rare investment opportunity because of its ability to rapidly innovate and create new disruptive products across a variety of industries.
Arnold said it would continue to disrupt the market because of its innovative flat organisational hierarchy and because it spent more on research and development than its competitors while spending nothing on advertising.
"The business is structured to actually innovate rapidly but reduce the costs of innovation through artificial Intelligence and machine learning based simulations," he said.
Tesla was Hyperion's Global Growth Companies fund largest holding with a 12.9% allocation, according to its October fact sheet.
Arnold noted that Tesla focused on creating exceptional products as it removed the need for advertising with word of mouth instead driving sales, allowing its research and development budget to be higher than competitors.
He said Tesla's spending strategy was efficiency focused as they only hired the "very best" engineers.
"It believes a small team of highly talented engineers is better than a larger team of average quality engineers and it can afford to be discerning when hiring because most of the talented engineers want to work [there]," Arnold said.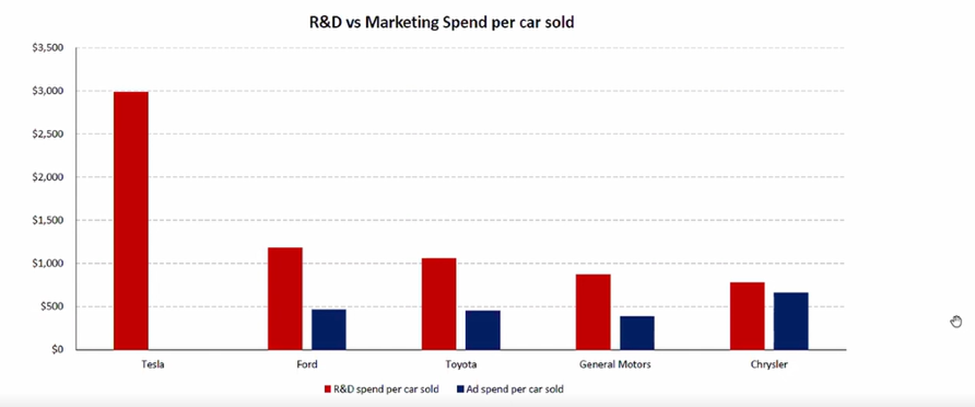 Source: US Securities and Exchange Commission filings
Disclaimer – Hyperion Asset Management Limited ('Hyperion') ABN 80 080 135 897, AFSL 238 380 is the investment manager of the Funds. Please read the Product Disclosure Statement ('PDS') in its entirety before making an investment decision in the Funds. You can obtain a copy of the latest PDS of the Funds by contacting Hyperion at 1300 497 374 or via email to investorservices@hyperion.com.au.
Past performance is not a reliable indicator of future performance
The fund changed its name from Hyperion Global Growth Companies Fund – Class B to Hyperion Global Growth Companies Fund (Managed Fund) on 5 February 2021 in order to facilitate quotation of the fund on the ASX.
Hyperion and Pinnacle Fund Services Limited believes the information contained in this communication is reliable, however no warranty is given as to its accuracy and persons relying on this information do so at their own risk. Any opinions or forecasts reflect the judgment and assumptions of Hyperion and its representatives on the basis of information at the date of publication and may later change without notice. The information is not intended as a securities recommendation or statement of opinion intended to influence a person or persons in making a decision in relation to investment. This communication is for general information only. It has been prepared without taking account of any person's objectives, financial situation or needs. Any person relying on this information should obtain professional advice before doing so. To the extent permitted by law, Hyperion disclaim all liability to any person relying on the information in respect of any loss or damage (including consequential loss or damage) however caused, which may be suffered or arise directly or indirectly in respect of such information contained in this communication.
You may also be interested in
Read more of our investment insights