Investors are confident the heavy underperformance of the local technology sector through the first few sessions of the year is nothing to panic about, despite rising bond yields bringing their lofty valuations into question.
Since the US 10-year topped 1 per cent last Thursday the local market's largest software-as-a-service (Saas) player Xero has plunged 10.3 per cent, while fellow SaaS provider Nearmap has dropped 6.3 per cent.
Jason Orthman, the deputy chief investment officer at Hyperion Asset Management dismissed 2021's reversals as short-term wobbles in some cases.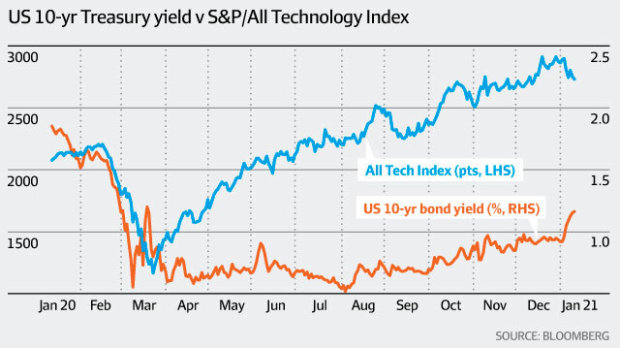 "Any rotation to value styles or cyclical stocks will be temporary," he said. "The best structural technology growth companies are misunderstood and remain compelling value over a 10-year time horizon.
"Structural growth means the trends these companies are taking advantage of are enduring and they should be able to grow through all conditions."
Don't get distracted
Despite the sharp falls, Mr Orthman said Hyperion remained bullish on the tech sector and structural growth stories such as Afterpay and Xero, which are among the top three holdings in Hyperion's Australian Growth Fund.
"Market participants that get distracted with predicting short-term share prices and style rotations will miss the underlying shifts occurring in markets," he said. "The best thing market participants can do is search for structural growth.
"We're still really positive on Afterpay that's one of our largest holdings. They're the number one player in Australia and we believe they'll be the number one player in the US and UK. It's actually really, really early days for Afterpay."
The trading week kicked off with the big US names tumbling after the benchmark risk-free US 10-year bond yield continued its advance, amid heightened inflation expectations, after US Democrats captured majority control of the Senate last week.
The local tech stocks were also hit but had already been trading weaker for the year.
Silicon Valley outperforms
Monik Kotecha of Insync Funds Management said investors coveting the blockbuster 44 per cent return from the Nasdaq Composite over the past 12 months, after it hit another record high to finish the last trading week, should consider how it's a greater beneficiary of global capital flows versus the local S&P/ASX All Tech Index.
"Our market is largely driven by domestic flows," said Mr Kotecha. "Overseas flows do come here, but in my experience it's multi faceted. So for example now people want to participate in the reflation story – well we've got BHP, Rio, the banks – if you're in London, Hong Kong, New York or Tokyo Australia could be a great place for a cyclical recovery."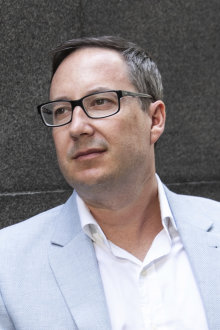 Mr Kotecha said the decision of homegrown Sydney-based software giant Atlassian to list on the Nasdaq illustrated the US bourse's competitive advantage in attracting the best tech companies and global capital flows from powerful pension, institutional, or sovereign wealth fund capital allocators.
Mr Orthman said leading tech businesses in Australia and the US should both continue to outperform: "You'll have some gyrations, but at the end of the day it's that strong earnings per share growth that'll overwhelm anything which is happening with [bond] yields or discount rates."
The fund manager named ASX-listed medical software business Pro Medicus as a potential 10-year winner.
"Pro Medicus always looks optically expensive but has an absolutely incredible product in digital medical imaging that should become the standard in US hospitals over the next 10 years," Mr Orthman said.
"We expect the cadence of contract wins to increase coming out of COVID-19 and this seems to be occurring with a number of recent announced contract wins. It's market share in the US is only low single digits so it's very early days in its journey."
The fund manager behind the top-ranked Hyperion Australian Growth Companies fund, which delivered a return of 33 per cent in 2020 and has beaten its benchmark by 450 basis points or more every year for the past 15 years cautioned against chasing the reflation trade.
"Many large listed incumbent businesses are being disrupted and the decline of their intrinsic values will continue unabated," said Mr Orthman.
"Examples include traditional auto, major banks and oil & gas. Long-term investors need to be aware of the winners and losers in a modernising world, rather than relying on historical, less-relevant precedents."
This article was originally published in The Australian Financial Review.